Storytelling, Art, & Mindfulness
To truly support girls, we must go beyond conventional law and policy analysis and solutions. Respecting the need to hear girls' stories, heed their perspectives, and recognize their resilience, our Initiative centers the voices of girls in identifying challenges, needs, strengths, and solutions by compiling and analyzing their art and shared narratives and examining the potential of art and mindfulness to address the effect of trauma on girls.
New & Noteworthy: Storytelling, Art, & Mindfulness
Girls' Narratives
The Initiative values girls' voices and lived experiences. This priority is reflected in our qualitative research, where we conduct focus groups and listening sessions with girls to center their voices, which is so often missing in youth studies. We believe that systems need to listen to girls rather than change them. As one of our youth advisors stated:
"Embrace girls of color–don't try to change us."
– Aliya Horton
Click here to read more essays by our Youth Advisors.
Our qualitative research contributes to girls' influence on the Initiative's work. In focus groups across the country, we have heard the stories of women and girls of color. One youth participant in an adultification bias focus group told us:
"I'm still a kid. I still mess up. But it just seem like. . . anytime you do anything wrong, it's, 'Oh, you know better.' So you're gonna get like the worst punishment possible." – Focus Group Participant
Read Our Publication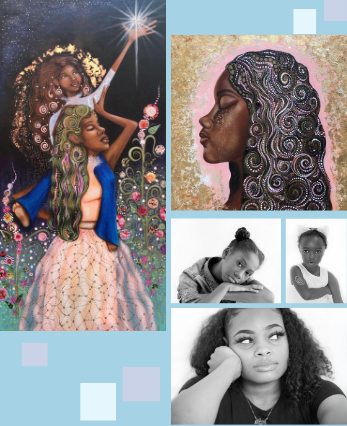 Art
The Initiative believes in the power of artistic expression to advocate for educational equality and social justice, as well as a means of healing from trauma. In 2022, we announced our inaugural Youth Storyteller in Residence: Logan Green. Click here to learn more about her and see her powerful spoken-word poems.
In 2018, we partnered with Rights4Girls to solicit girls' visual and written work from across the country to create I Am the Voice: Girls' Reflections from Inside the Justice System. The compilation reflects girls' experiences with the juvenile justice system. It is intended to provide space for girls to express themselves, allowing their work to stand on its own. View some of the artwork in the gallery below or download the full compilation here.
We also commissioned two local artists to express their responses to our adultification bias research, in an exhibit co-organized with the National Museum of Women in the Arts. View a collage of their artwork on the right.
To learn about the ability of photography to contribute to social change, watch a webinar we conducted with Critical Exposure through the Schools for Girls of Color Learning Network. Watch the full 30-minute video here.
Read our Publication
View the Art Gallery Below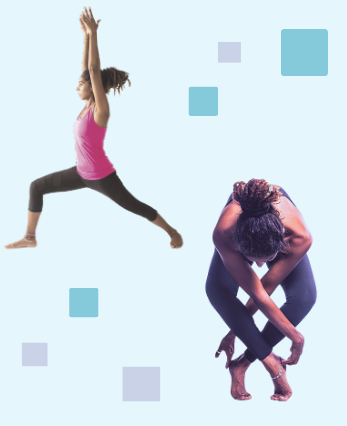 Mindfulness
The Initiative also studies mindfulness practices and yoga as gender-specific interventions that can help address the effects of trauma on girls. We've conducted research, analysis, and presented recommendations to understand the use of mindfulness and yoga practices as a means of overcoming symptoms of trauma, improving self-esteem, and strengthening self-regulation.
More Work on Yoga & Mindfulness Interventions
Our Initiative continues to examine the potential of yoga and mindfulness for girls. It serves as an advisor to the Art of Yoga Project – a nonprofit leader of treatment and rehabilitation that focuses on early intervention to help marginalized and justice-involved girls prepare for a positive future. For more information, visit their website.