Educators & Professionals in School Communities:
Membership is free and open to adults working in school communities. Login to the platform or apply to join for access to these benefits:

Sign up for trainings and other online events focused on trauma-informed practices, race and gender bias, cultural competency, and promising practices and interventions.

Engage in an interactive message board for Learning Network members to pose questions, post relevant comments, articles and ideas.

Keep updated with the latest publications, including reports and recent studies.

Community
Belong to a community of youth advisors, leadership team, and over 1,000 members spanning 46 states.

Gain access to related content from "The PACEs Connection", a social network focused on Adverse Childhood Experiences and fostering resilience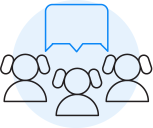 Gain insight from our Youth Advisory Committee, made up of girls and young women of color under age 25, who ensure that our work addresses girls' real-life concerns.