Restorative Justice Practices
We do more than study systemic challenges. We elevate innovative tools and promising policies and practices that can help dismantle discrimination, resolve inequities, and improve health and education outcomes for women and girls.
New & Noteworthy: Restorative Justice Practices
Initiative on Gender Justice & Opportunity By Thalia González, Rhea Shinde, et. al.
About Our Work on Restorative Justice
Restorative justice (RJ) is a solution that offers special benefits to girls, helping support them so that they can learn, heal, and thrive.
Over the past thirty years, RJ practices in schools have expanded throughout the country. School-based RJ is an evidence-based practice used to build relationships to improve school climate, respond to conflict and misconduct, and support individual and community well-being. Evidence has increasingly shown that in addition to reducing discipline disparities, school-based RJ promotes positive student-teacher relationships and peer-to-peer relationships, healthier school climates, increased feelings of self-efficacy, improved academic performance, and social and emotional skill development. Each of these outcomes fosters school connectedness, which ultimately advances health equity for students. Read our issue brief on this topic here.
Whether RJ is implemented in school or communities, we prioritize youth-led RJ that empowers young women and girls and ensures that it aligns with the goals that they themselves identify as necessary for growth.
Upcoming Report Release
Stay tuned for our first in-depth report on RJ, which will be released this fall! "The report will share the results of our multi-year research project, under the leadership of our Senior Scholar Thalia González," which includes qualitative data gathered from focus groups with girls across the country on this issue. They will be used in our culminating report. Below is a quote from one focus group participant that captures some of the impact of the project: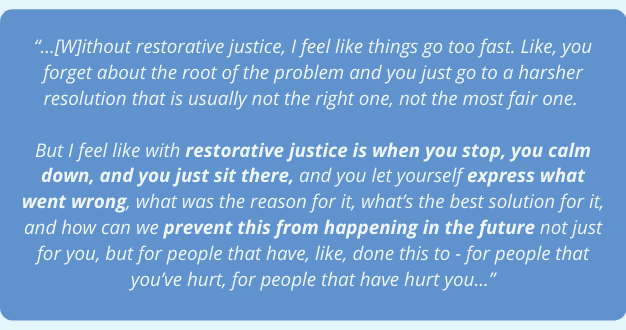 Read Our Reports on Restorative Justice Practices
Watch to Learn More
Preview: Youth-Led Restorative Practices Training (Part 1)
Preview: Youth Led Restorative Practices Training (Part 2)