Publications
Juvenile Justice
Blueprint: A Multidisciplinary Approach to the Domestic Sex Trafficking of Girls
This report grows out of a conference held in 2013, that was hosted by Georgetown Law's Center on Poverty and Inequality; the Human Rights Project for Girls; and The National Crittenton Foundation. The conference gathered survivors, direct service providers, advocates, and state and federal government officials to discuss the challenges of addressing the domestic sex trafficking of children and the importance of working collaboratively to help identify and support survivors.
Download Sex Trafficking of Girls Report
Jun 2014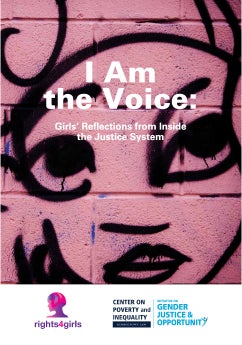 Purchase Hard Copies of Our Publications
To request hard copies of our reports, email lawpovertycenter@georgetown.edu.
For a hard copy of "I Am the Voice: Girls' Reflections on their Experiences with the Juvenile Justice System," click the button below and submit an order form.
$20 Get a Hardcopy
Regional Initiatives Inspired by Our Work